ISM-San Diego, Inc.
A Chapter of the Institute for Supply Management working together to advance the profession of supply management.
San Diego's Leading Supply Chain Management Organization
Welcome to the new ISM-San Diego website - designed to better support our members and add value to your professional and personal development. You will find access to all your ISM benefits which are now seamlessly integrated with the ISM Global organization.
Both ISM-San Diego and ISM Global are offering a mix of seminars and training events using both virtual and in-person approaches. ISM-San Diego uses Zoom for all its virtual events which can be accessed from any device at any location and archived for viewing at a later time.
Please bookmark this new site and return often for upcoming events, news, research, and member resources.
MEMBER WEBINAR

The things we don't know about ourselves are controlling our lives and we just call it fate! It is what it is. The truth is that when we intentionally align our values and live out of our superpowers we experience more flow and less hustle. When we understand WHY we do what we do, we have more influence and create greater impact in the areas the mean the most. When we live In Purpose On Purpose, we attract all the blessings, resources, and people we need to create a life of significance.

In this energizing and engaging experience, James Madison will ignite a personal awakening to your Zone of BEing that keeps you Flowing through everything you create in life! Learn how to Pivot On Purpose and align who you are with what you do for more joy, peace, and overall fulfillment. When we live our Purpose, we never work another day in our lives!

Learning Objectives:

You will learn the primary core values that motivate and inspire everything you do and strategies to flow in your Zone of Being.
You will recognize the environments, activities and circumstances that energize you and the ones that drain you.
You will understand how to Pivot On Purpose and align who you are with what you do.
You will learn how to implement a game plan to cultivate stronger personal and professional relationships.
You will identify how to achieve Work-Life Integration for greater personal and professional fulfillment.
MEMBER WEBINAR

Join the executive leaders from ISM and Resilinc as they come together as part of a quarterly series to discuss the latest and emerging risks and disruptions impacting global supply chains. ISM CEO Tom Derry and Resilinc CEO Bindiya Vakil will also provide insights based on respective data and research from both organizations.
EVENT

The ISM World in-person only experience gives you the opportunity to be face-to-face with thought leaders, peers and suppliers and have dedicated time to build your network and expand your knowledge on critical topics impacting the supply management profession. Get inspired by amazing keynotes, interact in engaging breakout sessions and have fun swapping supply chain "wins" (and war stories) in a variety of attendee celebrations and small group experiences.

THINK YOU WANT THE BEST OF BOTH WORLDS? Consider the ISM World all-access pass. Learn more. Read more about the All Access Pass
Supply Management News & Reports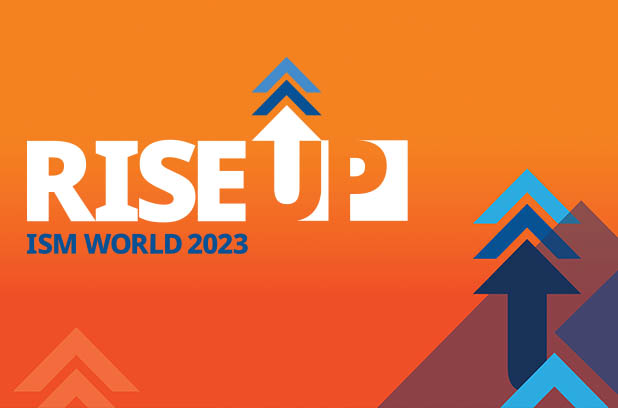 Read More